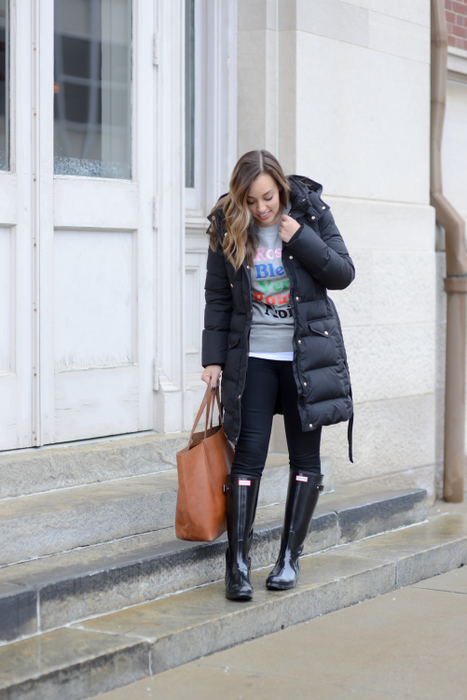 Coat: J.Crew
Sweatshirt: J.Crew
Jeans: Madewell
Boots: Hunter
2017 certainly kicked off in high gear and it's hard to believe we're already into February. Other than fighting a sinus infection for a few weeks, January shaped up to be a pretty fun and productive first month of the New Year.
My girlfriends and I officially kicked off our 2017 Book Club, predicated on monthly meetings and "book discussions" at our favorite wine bar. This month we read I Let You Go by Clare Mackintosh and the second half of the book was a page turner. Not going to lie, it was intense and I did have nightmares. But if you were a fan of Gone Girl, I would recommend this one. I also read You Are a Badass and it was just the right amount of motivation I needed to start the New Year off right.
We tried Blue Apron for the first time this month and verdict's still out on whether or not I love it. I enjoyed trying new recipes and different ways to prepare some of my favorites, but each meal still took me 45 minutes (am I a slow vegetable chopper?!) and sometimes that is just way too long when I get home late from working out and have a growling stomach.
I traveled to Chicago for a girls weekend and we did all the touristy things. We went ice skating, got wine at the Chicago Athletic Association Hotel (awesome space) AND we met Tuna Melts My Heart, my favorite dog on the internet. (Other than my own pup, of course).
I'm not sure if binge-watching a show is really noteworthy, but I watched season 1 of The Affair and really enjoyed it. Love the way it's shot from the two different perspectives. Does anyone else have any binge-worthy show recommendations?
In the fitness department, I tried a cardio hip-hop class for the first time which was quite fun and brought me back to my college dance team days. A friend and I also gave aerial fitness a whirl and let me tell you, that was HARD. So fun swinging around, but I was sore for days.
And last but not least, Zak and I started ballroom dance lessons. We were the youngest people in the class by about 30 years and it was the cutest thing ever. Hopefully we will be pros by the end of this month.
A few of my favorite purchases from this month include this long sleeve tee (I took a small), this bomber cardigan sweater and these booties.