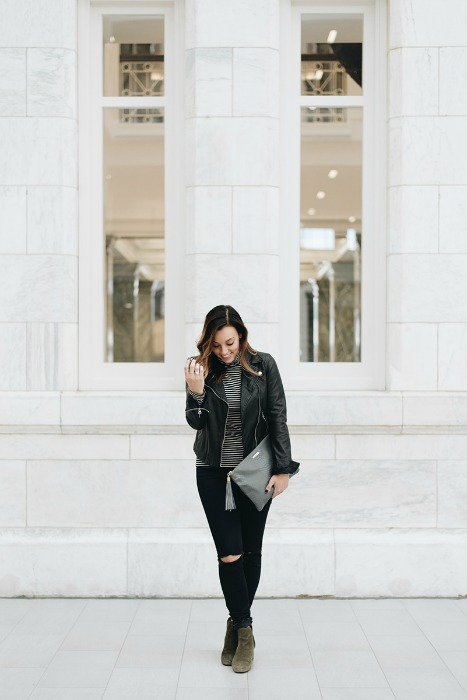 Over the last few years and even more so since we moved and downsized our space, I've been buying fewer, higher quality items for my wardrobe. The older I get, the more I realize that having a few key pieces is a better use of my money and space. And it makes getting dressed wayyyyy easier. So here are 5 pieces worth investing in…
ONE // Leather Jacket
I saved some gift cards to help purchase this jacket that's a closet necessity. I feel like you could throw a leather jacket over old jeans and a t-shirt and emerge looking like a cool-girl supermodel.
TWO // Everyday Bag
I've mentioned this Madewell Transport Tote nearly one billion times on the blog, but I use it nearly every.single.day. It fits my laptop, planner and all my other daily necessities and the leather seems to get prettier with age.
THREE // LBD
Whenever I'm in a pinch to pull together an outfit for a wedding or event, I can always count on a classic, well-made little black dress.
FOUR // Leather Boots
Finding quality shoes that are comfortable, chic and long-lasting will keep you from continuing to buy not so well made leather boots each new fall season. A classic pair that lasts for years is definitely worth it. Mine are already 4 year old and still look and feel fantastic.
FIVE // Jeans
I wear jeans a majority of the week, so I'm happy to invest in a few quality pairs that are a better fit and won't stretch out.