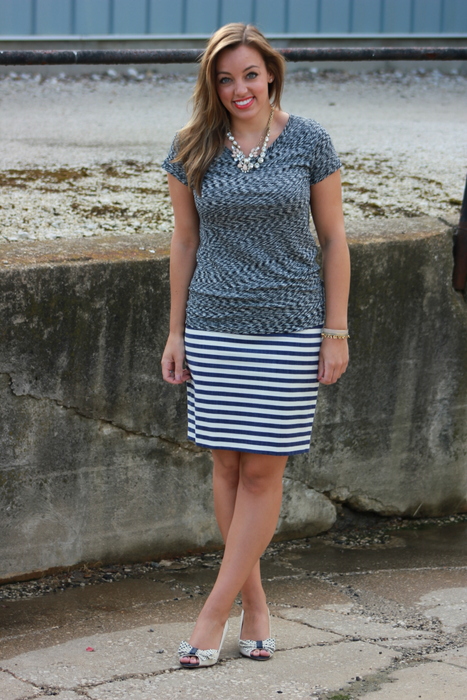 Sometimes I like to dress fancy casual, you know?  My baubles say fancy, my t-shirt says casual.  My t-shirt also says it's 90 degrees out and I just want to wear a cotton t-shirt, ok??
T-shirt: J.Crew (small)
Skirt: Talbots (similar)
Necklaces: J.Crew, J.Crew Factory
Heels:  Seychelles

In case you were wondering what I scooped up at the Nordstrom Anniversary Sale…  I went home with this skirt (see here on Instagram) in a size 4.  It.is.awesome.  I also ordered this dress, which my mom and I are going to share.  It's always convenient that we are similar sizes.  I tried the 2 on in-store and it was a bit snug, so I ordered the 4.  Can't wait to wear it in the fall.  I also got my yearly pair of running shoes (how often are you suppose to replace them?!) and a gift for a friend.  I would link to it, but I'm pretty sure she reads my blog.  Also, if you are thinking about investing in a Clarisonic, now is a great time to get one!

I'm off to Miami for work for part of the week.  There is a 50/50 chance I will come back with a shaved head, because I've really had it with my hair and this humidity.  Wish me luck.