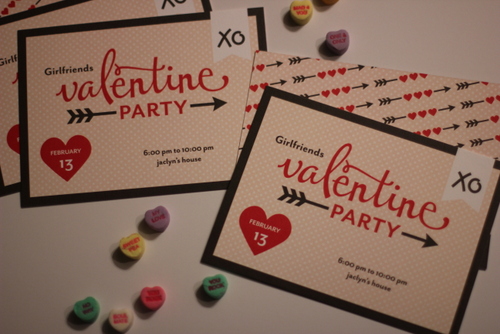 The winter months can be very long in Cleveland, so it's nice to have parties and time with friends to look forward to (and to find fun ways to stay warm inside). I wanted to throw a girly get together, full of wine, appetizers and sweets, to celebrate Galentine's Day! So last Friday, we all relaxed in our yoga pants and had a little cozy craft night, decorating Valentine's mail boxes… 2nd grade style. Sometimes a little wine and crafting is good for the soul.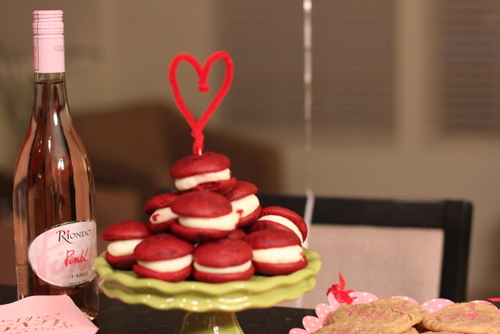 Here are my party planning tips…
1. Send invites: In a world of evites and texting about party dates, I still relish paper invites and cute stationery. Provide all the important details on a cute, Galentine's Day-themed invite. I ordered some adorable, custom invites from Tiny Prints to send to my girlfriends.
2. Plan the décor: This was an easy one, as I went with little touches of pink, red and hearts around my house to keep the theme going.
3. Serve a variety of bite-sized appetizers: We ordered some pizza after a few glasses of vino, but it' always nice to have appetizers ready when guests arrive. I typically serve veggies and hummus, my favorite spinach dip and of course some delicious fancy cheeses.
4. Consider a candy tray: One of the easiest tricks for any party is to throw together a mini-candy bar. Guests love to snack throughout the night and can even take some home.
5. Give party favors: I like to give everyone a little memento as a "thank you" for a fun evening. I decide to go with personalized notepads from Tiny Prints for a useful and sweet gift.
What are your favorite ideas for throwing a great party?