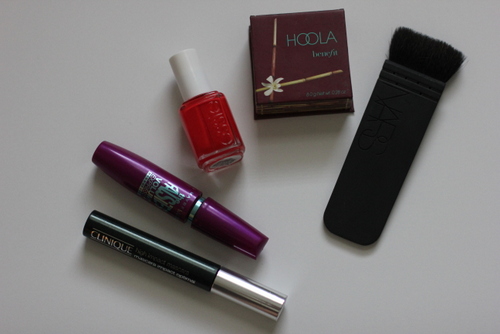 I realize I haven't done a beauty post in for.ev.er, but I wanted to share some recent beauty favorites that I use on a daily basis. Here's a list of my current favorites…

Hoola Benefit Bronzer: I was recently searching for a new bronzer and decided to give this one a try after reading some positive reviews. I just use a light sweep (and can layer on more color) but it's just the right shade and isn't shimmery.

NARS 'Ita' Kabuki Brush: This brush is a bit of an investment, but my goodness it makes contouring a cinch. A monkey could contour with this brush. So if you're struggling with figuring out how to contour your cheekbones, I highly recommend this brush. It will last you a lifetime.

Clarisonic Mia: I've talked about the Clarisonic brush before, but it really is my skin saver. It gently exfoliates without over-drying and leaves my skin feeling beyond smooth. If you haven't invested in one, it's currently a part of the Nordstrom Sale and I would definitely recommend it.

Essie 'Hip-Anema' Polish: This is my go-to shade for summer. It's the perfect cheery shade without being too red. I basically have it on from May to September.

Maybelline 'The Falsies' Mascara & Clinique High Impact Mascara: This is my perfect mascara combination and has been for years. I start with Maybelline for both length and volume and then follow with a swipe of Clinique once the first layer has dried. Both of them combined make for long and volumized lashes all day.

Stila Lip Glaze: I've always had a large collection of nude and light pink lip glosses in my purse and these give nice color with a shiny gloss finish with staying power.