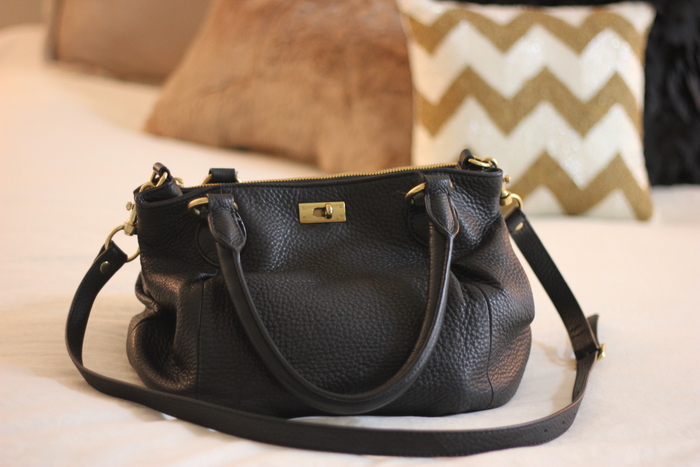 Anyone remember the scene from How to Lose a Guy in 10 Days where Kate Hudson strategically leaves her purse at Matthew McConaughy's apartment?  Then, when deciding whether or not to look in it, he says "A woman's purse is her secret source of power.  There are a lot of dark and dangerous things in there that men should know nothing about." (Yes, love that movie). Well, I'm not sure if my purse really carries secret powers, but it does carry a bunch of stuff I "need" on a daily basis.  So, here it is.  What's in my bag…

1. A minimum of five lip glosses.  As I mentioned in my Mascara Round-up post, I hoard lip gloss.  I typically have at least five, maybe more.
2. Hempz Lotion.  The best.
3. My kindle.  You never know when you'll have a few minutes to read…  Doctor's office?  Lunch?
4. Wallet.  Standard.
5. A polka dot pouch full of coupons.  I'm a coupon queen.
6. An epipen.  I have a pistachio allergy and I think it's smart to carry one regardless.
7. Clinque powder compact.  Farewell shiny nose.
8. Granola bar so I don't get hangry.  (Hungry + Angry = Hangry)
9. Deodorant.  I have on more than one occasion forgotten to put on deodorant in the morning (TMI?) and will realize it about an hour into my day.  A must have, always.
10. A pen.  Old school, but necessary.
11. A lucky nut and stone from my Dad.  He gave them to me before an important job interview four years and I've kept them in my purse ever since.

How about you?  What do you stash in your bag?