My next three weeks will be spent traveling for multiple trips. I've found that an easy way to combat stressful travel woes is to have a carefully and thoughtfully packed bag. Over the years, I've become a bit of a pro at packing five days' worth of clothes into a small carry-on. I currently use a Delsey carry-on spinner because it's light and I can cram a ton in there, but honestly I've been looking at investing in an Away bag. I love that it has a built-in battery so you can charge anytime and you're not searching around the airport for an available outlet. (Anyone feel me?)
Since I'll be jet-setting the next few weeks, I thought I'd share my carry-on essentials for a relaxing flight.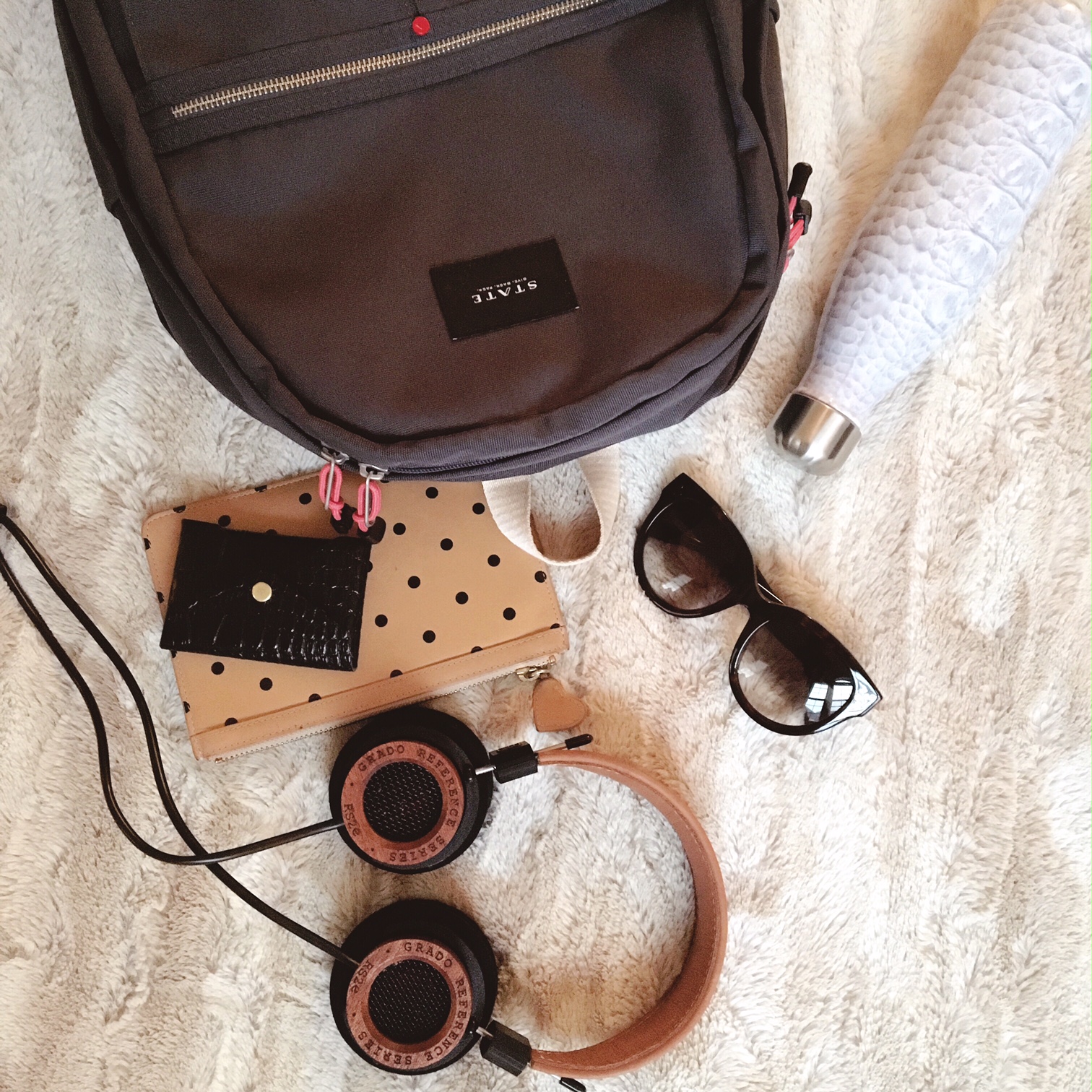 State Backpack and Cross-body Bag: I recently purchased this State backpack during the Shopbop sale and it's just the perfect size. It's slightly smaller than my previous backpack, but still has plenty of room for my laptop and necessities. I also typically have a cross-body bag with me as well for quick access to my ID and phone.
Kindle: I typically read a book on flights until I fall asleep and my Kindle is always with me. (I'm one of the lucky people that can easily fall asleep on a flight. Don't hate me).
Headphones: In order to fall asleep and avoid the sounds of screaming kids, I pack headphones and listen to soothing music or a podcast.
Swell Water Bottle: You unknowingly become super dehydrated during flights, so I always fill up my water bottle before boarding.
Scarf: I will never leave home for the airport without an oversized scarf. I find myself freezing on most flights, so I'll wrap myself up and use it as a makeshift blanket.
Gum: I definitely rely on gum during flights during takeoff and landing to keep my ears clear.
Socks: Nothing worse than cold feet on a long flight, so I often bring a pair of fuzzy socks just in case I get cold.
Snack Bars: Since planes are 99% germs, I usually pack snack bars instead of a trail mix or crackers so my fingers don't have to touch anything I'm eating.
Hand Sanitizer: Again, airplanes are 99% germs.
Roller Ball Perfume, Lip Gloss and Face Blotting Wipes: These are my beauty essentials for when I land. I like to freshen up with a little perfume, lip gloss and blot any oil on my face.
Advil and Airborne: Just in case of a headache. And I'm not certain if airborne actually works, but it makes me feel better about staying healthy while in and out of airports.
Follow along with my travel adventures on Instagram! (@sharingmysole)