Well guys, today is the day! It's early access for cardholders to the biggest sale of the year – The Nordstrom Anniversary Sale! This is your chance to score new fall items at a discount. Early access starts today for those with a Nordstrom credit or debit card. But if you don't have one, no worries! The sale opens to the public on July 22nd. Naturally I've already been scouring the site for the best deals, so here are a few items that are sure to sell out quickly…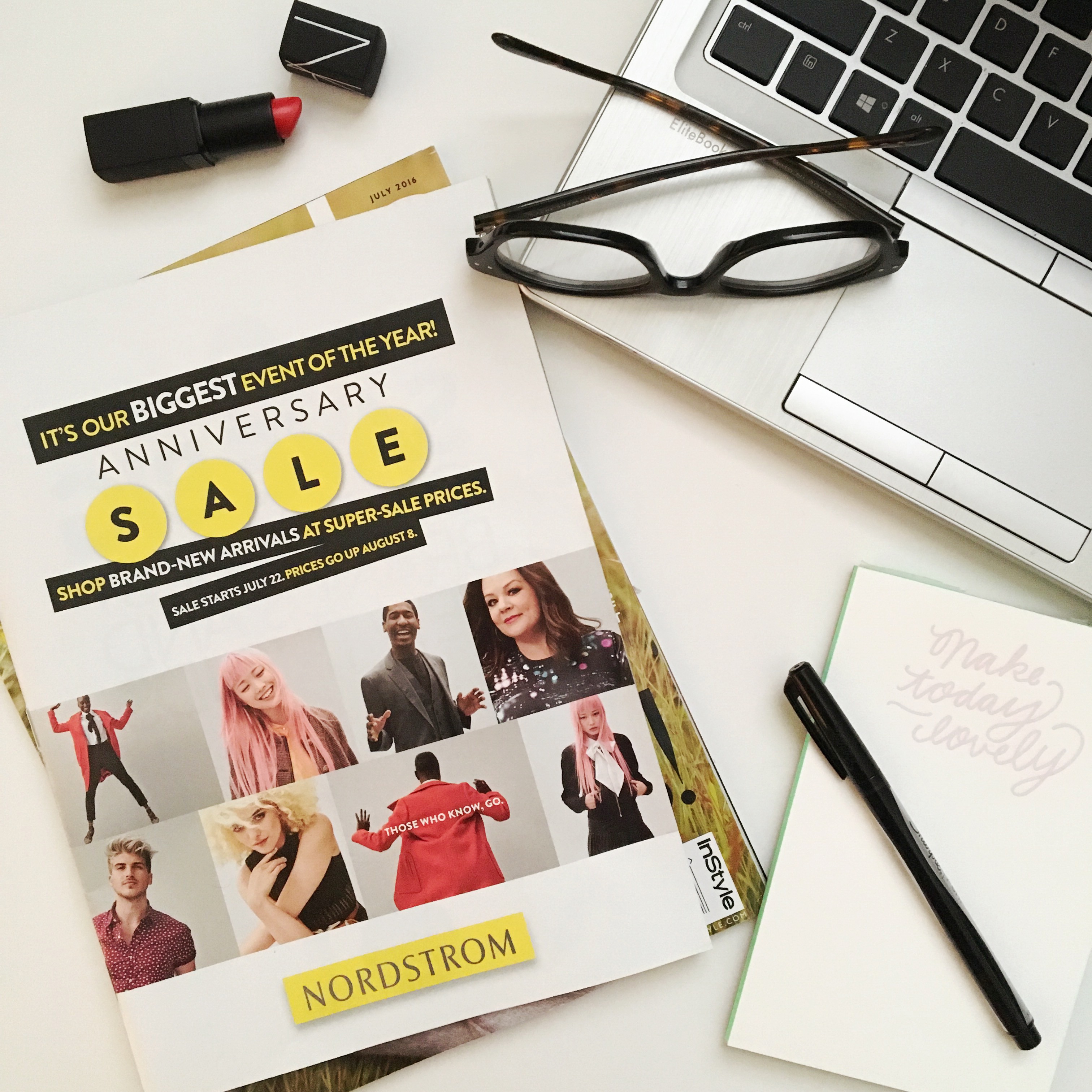 1 // Shoes
So many good shoes. I love these Halogen pointy toe lace up flats for under $60. They go back up to $90 after the sale, so act fast. If you want to splurge on some Rag & Bone booties, now is a great time to do it! I actually got some last year and love them. I also typically stock up on a new pair of running shoes during this sale and you really can't beat a new pair of Nike's for $75. And I have to mention Hunter Boots for $129 during the sale. I LOVE mine in the fall and winter. They go back up to $195 after the sale.
2 // Clothing
First on my list is a cashmere sweater wrap. Zak & I are going to a wedding next month in Northern California and this wrap will be perfection for that trip. Adore this printed dress for under $80 that will be a great transition piece into fall. And their denim on sale is always so good. It's also a great time to stock up on some new unmentionables… My favorite bra is a part of the sale and Hanky Pankys are quite the steal.
3 // Handbags
I've never been a fancy handbag gal (my Madewell Transport Tote is pretty much my everyday bag…) BUT there are some really great options that are a part of the #NSale. Love this leather crossbody and you can get the most adorable weekend duffle bag for under $50! After the sale it goes back up to $70.
4 // Beauty
The beauty exclusives are on point this year. You can get a Clarisonic for under $100 (!!!) and I love this Bobbi Brown Nude Lips set. And I also really really want to try this personal microderm device, but I'm not sure if I want to splurge or not. (Does anyone have one and love it?!)
So that's it for now! Honestly I know the #NSale can sometimes be a bit overwhelming (so many deals and so little time!) but it's definitely fun to browse and stock up on those quality basics.